At the Evrografis printing company in Maribor, we produce all types of printed matter (brochures, newspapers, books, magazines, leaflets, etc.) from paper or cardboard quickly and in top quality.
We do offset printing using the latest technology in 1-, 2-, 4- or multi-colour techniques. The Evrografis printing company is based on long-lasting printing tradition from the early 90's.
During this time, we have developed our best trades: reliability in quality and meeting production deadlines, top professional and technological qualifications and following the current trends in the printing business. Today, the Evrografis printing company offers a wide array of services, from idea, to graphic preparation and printing, to potential additional printing of addresses on printed matter and shipping it to the specified address.
 Union of years of experience and fresh ideas.
Protecting the environment
We use printing plates with the Eco Green technology by the Fuji company. Machines for developing panels are computerized, connected in a network and use a special developing solution that enables very precise dosing and monitoring. The waste developing solution is cleaned in a filtration system before being taken away, and this ensures that the amount of waste developing solution splits to 1/3 of concentrated sludge and 2/3 of distilled water, which is reused in the printing process.
All paper waste that is produced in the finishing process is sorted and sent to recycling.
We use ecological colours from a German manufacturer in our printing process, and they are made from environmentally friendly ingredients, which is why waste colours and their packaging does not pollute the environment. in the process of washing our machines, we use the distilled water that has been previously collected during panel developing. During winter, the heat produced by the auxiliary power units on the technical premises is directed into the ventilation system, which reduces our use of fossil fuels for heating the entire building. Cloths, used for cleaning our machines, are returned to the supplier after being used. There they are ecologically washed and returned to circulation.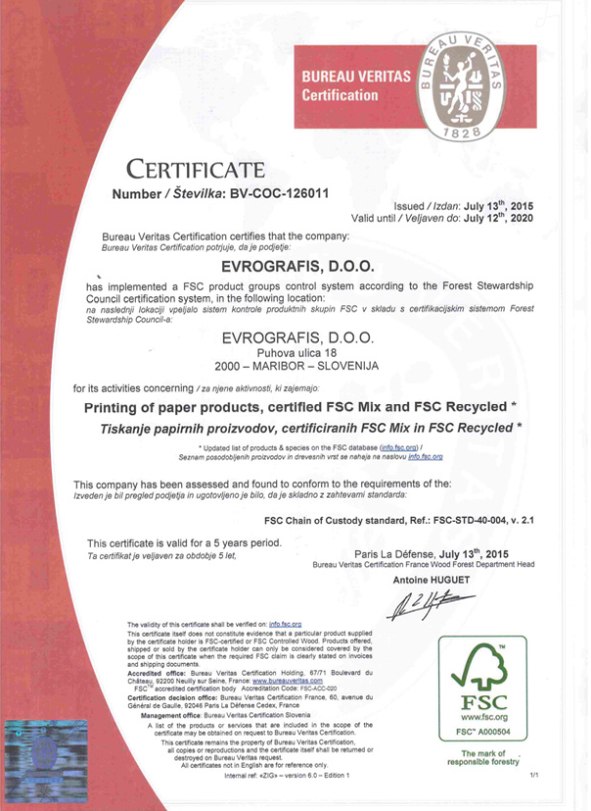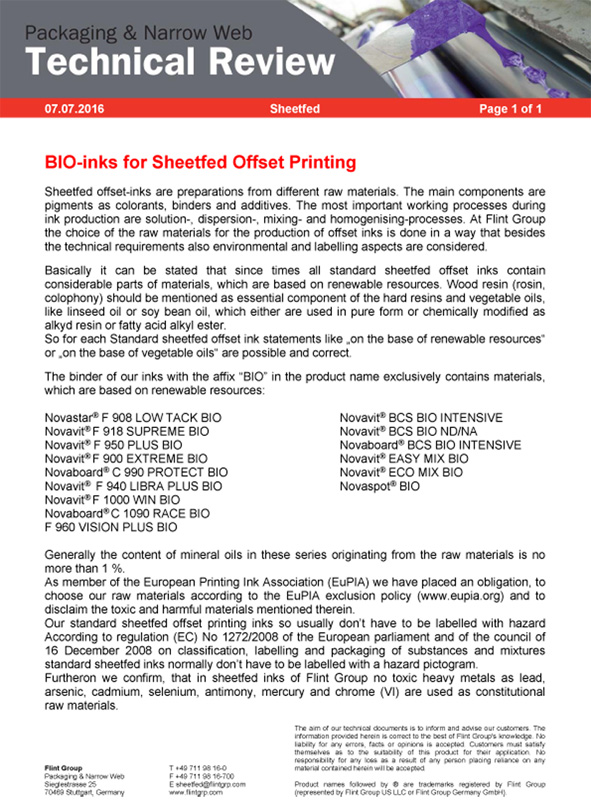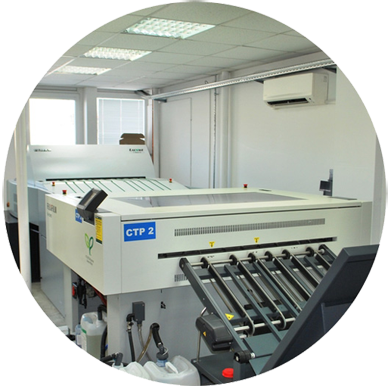 2x CTP FUJI Luxel T-7800CTP (42 pl/h)
In preparation for printing, we use the latest machines (CTP B1 FUJI Luxel T-7800 CTP with automatic loading) and software, such as such as the Equios programme for electronic assembly, Adobe graphics programmes, Pit Stop, and a printer for producing proof prints.
For printing forms, we use CTP technology (Computer to Plate), to create a maximum B1 format pressing plate (1000×700 mm) without using a film, thus providing the best possible quality and speed, and as a result we avoid various mistakes that may occur during film fabrication and subsequent manual installation.
We are also equipped with CIP 3 software and machinery, which enables us to transfer data on colour settings from PDF files to printing machines.
Two computerized Polar cutting machine ensure superb accuracy in cutting and trimming.
Stahl, Guk, Fidia and MB folding machines enable fast and accurate folding, gluing and perforating.
And all are also fitted with a device that allows a window fold, which is still a rare thing to see.
The two T&HB gathering lines with 15 stations enable fabrication of bound calendars, catalogues and newspapers from a flat sheet.
The Müller Martini gathering line with 6+1 stations allows us to produce bound catalogues and newspapers with up to 96 pages from folded sheets.
Heidelberg book printing machines ensure top quality cutting, perforating and gouging.
Our machine park consists of:
2 X HEIDELBERG SM 102-8 PS
HEIDELBERG SM 52-5 PH
DIGITAL PRINTING BW DEVELOP
DIGITAL PRINTING COLOR DEVELOP
We print using multi-colour Heidelberg printing machines and this guarantees high quality and reliability. Both printing machines are fitted with perfecting technology, which enables rapid and high-quality printing on both sides. We are able to print on all types of paper and cardboard, weighing from 70 to 350 g. Our machines are also equipped with CIP 3 software and machinery for transferring data on colour settings from PDF files to printing machines.
You will find us in Maribor, at Puhova ulica 18.
The company lies directly next to the Celje – Šentilj motorway. The motorway exit no. 4 (Maribor East) takes you west towards Maribor and after a couple hundred metres you notice the Evrografis building with its yellow façade on your left. That is where the business entrance is, while the cargo entrance is at the parallel Kuharjeva street, also properly marked.
The facilities are accessible to all types of cars and trucks.